Newsletter
December



We would like to thank our customers and business partners for the cooperation this year.
For the upcoming holidays we wish you and your family a Merry Christmas and a healthy and successful 2016.

With this newsletter we inform you about a few more news before the holidays.
The next issue of our newsletter will be sent out in January.

Your Neupert Ingredients Team
to the top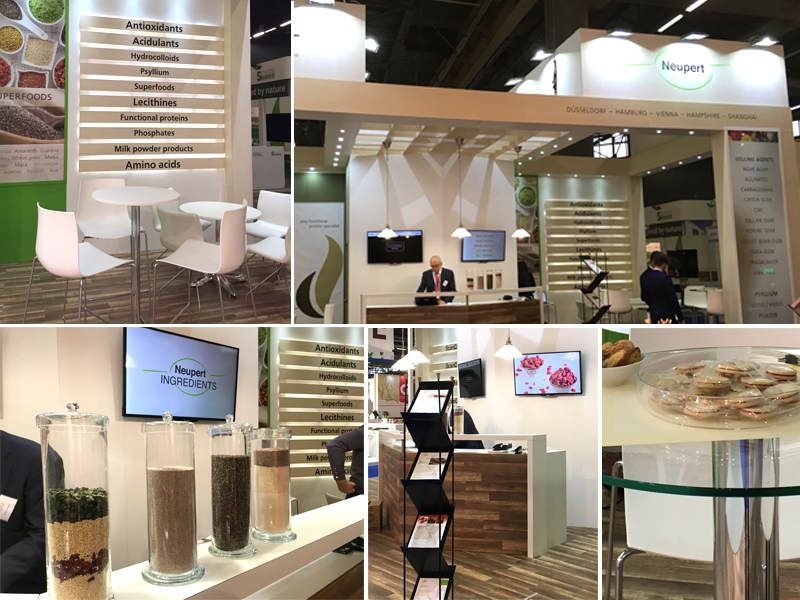 Our booth at FIE in Paris

Despite the rather skeptical expectations with which we went to Paris the 3 days were very successful. At this point, many thanks to all who visited us.

We have informed our visitors about the current market situation for many products and presented our expanded product portfolio.

The new product line of superfoods commonly encountered great interest. We'll keep you updated on the development of this product line.

We also noticed increasing demand for organic products. Therefore we have decided to exhibit at Biofach in Nuremberg in the coming year. Further information will follow shortly.
to the top
The current price situation is as follows:

USD vs. EUR 1,09

Guar gum
Prices in Rupees are historically down

Xanthan gum
Prices remaining on a very low level

Locust bean gum
Strong price increases due to low crop yields

CMC
slightly lower prices on USD basis, we expect increasing prices by the beginning of 2016

Alginates
slight price increases

Carrageenan
very low price level

Konjac gum
Prices have slightly gone down, increases are expected

Lecithine
high demand, not enough voume available. Sunflower lecithine availability not before 1st quarter of 2016

Psyllium
highly increasing demand, price increases expected for January 2016

Chia Seeds (Salvia hispanica)
increasing demand, limited availabilty for organic quality. Prices are expected to increase in 2016


to the top
Neupert Ingredients GmbH
In der Boerse 9 | D-21441 Garstedt | Germany
Tel.: +49 4173- 51591 - 0 | Fax: +49 4173 51591 - 99
E-Mail: info@neupert-ingredients.de